The Lee Road School Get-A-Voice Project
Resources
Preventing Bullying!
Lee Road is committed to preventing bullying and promoting a positive, safe, and productive school environment for our students to grow and thrive in.
Bullying Q&A's
What can a parent do? here are some answers to common questions about bullying.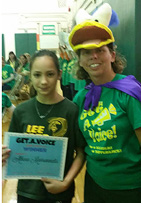 You could feel the excitement in the air on October 19th as the students entered the gym for the Get.A.Voice / LEADD kickoff assembly! This year we combined the two because the principles of each program go hand-in-hand perfectly. Mostly everyone was showing their school spirit, wearing either their Get.A.Voice t-shirt or a green/gold top.
The PTA generously sponsored a laser show called "Prismatic Magic." An anti-bullying message was presented by means of a speaker and exciting laser images. Popular songs were playing during the show that the children happily sang along with. The speaker included some Get.A.Voice ideas in his presentation. He taught the children to use the acronym, 'RIGHT,' which stands for: Respect, Integrity, Generosity, Honesty, Truth.
At the assembly, Mr. Goss and the teachers took the Get.A.Voice pledge. The students took the pledge in their classrooms. A Family Pledge Card will be sent home soon.
Our theme this year is Kindness. We had eighty-five students enter our slogan contest! The winner was Athena Mavrommatis, who penned this year's slogan: "Mean words you can't rewind" use your words to be kind." Athena received a certificate and had her picture taken with the famous "Rocky Roadrunner," who later autographed it! Lessons and activities will take place in classrooms throughout the year centered on Kindness. We invite you to highlight this trait, as well, in your family life. That way, we will continue to build a strong school/family connection.