Abbey Lane Elementary School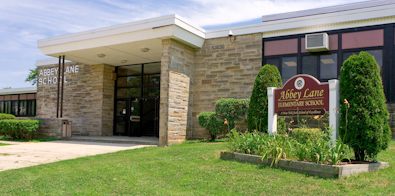 The Abbey Lane School, a New York State School of Excellence, located on Gardiners Avenue in Levittown, currently serves over 600 students in grades kindergarten through fifth. Abbey Lane is an exceptional place for students to learn and grow. Here at Abbey Lane we are dedicated to ensuring the success for all of our students by providing comprehensive, high quality academic programs as well as helping our students to develop into well-rounded productive citizens. Our faculty is committed to providing a first rate educational environment that is stimulating, nurturing, challenging and enjoyable for all students.
Our school has a character education program as well as a "Get-A-Voice" Anti-Bullying program. These are integrated into many aspects of the curriculum with the goal of fostering the development of positive character traits in our students. Our student council has provided our students with an opportunity to understand and participate in numerous community service projects. In past years some of these projects included Coats for Kids Coat and Hat drive, and raising funds for the March of Dimes as well as numerous other charities.
At Abbey Lane School, we recognize that a partnership between school and home is essential for a positive and productive school experience. Children achieve best when their parents are actively involved in the education process. We invite and strongly encourage parents to take an active role in all aspects of our school program. The entire Abbey Lane community is committed to a total educational program that will enrich the lives of all our students and start them on their way to a happy and fruitful life.