About Division Avenue High School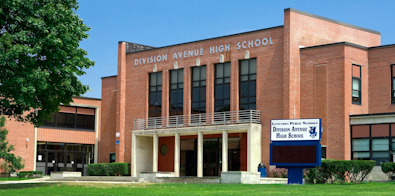 Division Avenue's faculty and administration are committed to a common vision for our students' success: a vision that encourages enhancing individual success and the fostering of a safe and proud school community. To these ends we offer a full range of academic, extracurricular and athletic programs to enrich and enhance each student's experience at our school. Beginning with a team approach to instruction and pupil services in 9th grade our students are, during their first weeks of high school, exposed to a variety of instructional strategies and support services in order to best meet their individual needs. By the time our students reach their senior year, they are often involved in research programs and Advanced Placement courses earning both high school and college credit.
Our students continue to excel as the requirements for graduation become more and more challenging. We offer a full battery of Advanced Placement courses and have enrolled more students in these courses than ever before in the history of the school. Year after year our students win awards at every level of county and state academic competitions and are recognized as community leaders.
We also have a very extensive extracurricular and athletics program. Most students participate in at least one of our 65 clubs and we are proud to field junior varsity and varsity squads in all high school sports ranging from Soccer to Cheerleading. Our athletes and teams have been recognized as the best in the region and the state.
The Blue Dragon community is a welcoming, supportive environment in which our students mature into active, intelligent and productive citizens and continue to meet, with an undying commitment to excellence, the challenges of the 21st century. It is our sincere hope that each student brings his or her unique contribution to the school's success as we climb to greater heights each year.